Thank you for contacting Rooftop Roofing and Remodeling, LLC, a representative will contact you shortly.

San Antonio Roofing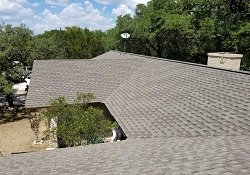 The roof is arguably one of the most important components of your home, and it is the leading defender against the forces of mother nature. It needs to be well maintained to effectively do its job. Annual inspections from a dependable San Antonio roofing service, like Rooftop Roofing and Remodeling, are the best place to begin. With precise installation and proper maintenance, it will surely keep your home and family protected for many years to come.
How many times have you sat inside the comfort of your dry and cozy home and watched a nasty hailstorm pass through the neighborhood? You were probably glad to have shelter from the storm but you may not have realized how critical the health of your roof is to the safety of your home.
Certified Roofing in San Antonio, Texas
Any evidence that suggests there is a problem should be taken care of immediately to avoid additional expensive repair bills. Some things to be on the lookout for are:
Missing, heavily stained, or damaged shingles
Loose and absent flashing around rooftop appliances
stains on the ceilings inside your home
The good news is that if your roof is still reasonably young and the damages are not too widespread you can probably have it repaired to get some more time out of it. Our professionals will completely examine your roof for any problems and will then recommend the appropriate course of action. However, if your roof is in its golden years and you have been noticing any of the above-mentioned warning signs it may be time for an entire roof replacement.
In either case, our highly knowledgeable and trained San Antonio roofing experts will take care of you from start to finish and will never try to sell you any services that your home does not need! We are A+ rated and accredited with other Better Business Bureau; click here to see our profile.
The San Antonio Roofing Contractor to Call: (210) 310-5543
Rooftop Roofing and Remodeling has comprehensive experience in San Antonio, Texas, installing premium residential roofing systems, and since the security of your home is our main priority, we install nothing but the highest quality roofing materials available in today's industry. Furthermore, we work fast and efficiently to repair or replace your roof, oftentimes completing full installations within just a few days.